Today's Song:
The Lumineers- Ho Hey
The festivities all end today for me. We are taking the tree and decorations down today as is traditional. And then I'm back to uni tomorrow. Sigh. I've had such a lovely break and it's going to be a long hard slog until the next one. Although I have half term in six weeks, they have basically told us we will be working through it and not to book anything. But at least I won't have to get up early!
Here are the pictures from New Year. I wasn't really looking forward to it; I expected it to be too busy. I enjoyed getting glammed up and overly glittery though.
Dress: ASOS, Bag: Oasis, Tights: M&S, Shoes: ASOS
The dress is rather risqué! The top is cobwebby lace with a chunk of material to stop it revealing anything. I don't think it looks tacky though because of the cute skirt flsring out.
This photo wasn't posed at all!!
I've gone a bit blusher crazy there, but if you can't be over made up on New Years Eve, when can you?
I cannot explain how happy I am with these shoes! They are still just as shiny after the night out and were super comfortable. My feet only started to hurt in the takeaway afterwards but that was from all the dancing.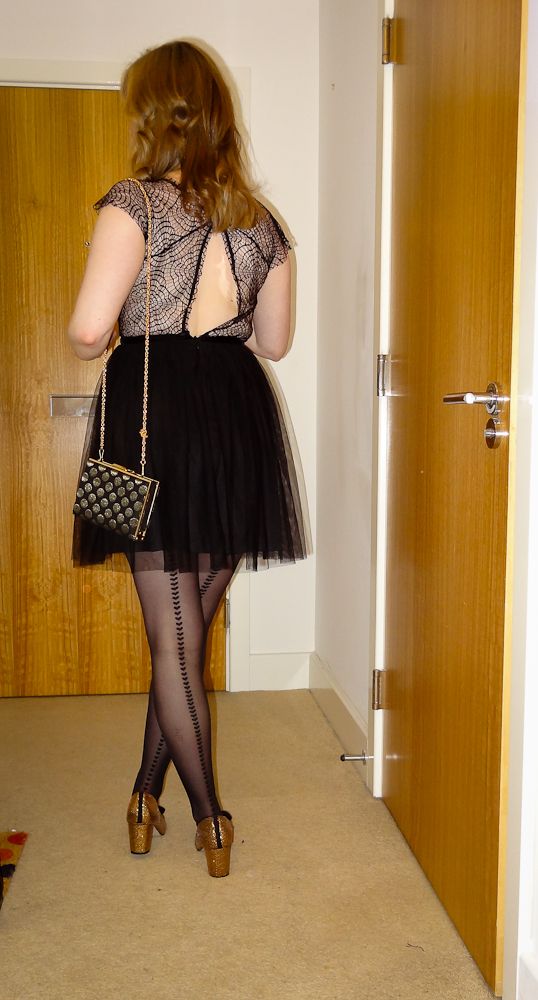 The back of the dress is my favourite, I love backless dresses. The tights laddered within about an hour of course!
In the end, it was a great night. We were at a cocktail bar with great drinks and cool music. The room we stayed in had a fun system with a booklet that you picked songs from and then texted the DJ with your requests!