Today's song: The Zombies- A Rose For Emily
There were a lot of Emilys in 60's songs!
First of all, thanks to those of you who left kind words of support on my last post regarding starting my PGCE and flat hunting. The induction day left me feeling rather over whelmed with the amount of work I have to do- I can't wait to leave my current job and get stuck in! Only three weeks to go, hurrah. The flat we looked at was really big; there are currently four people squeezed in there and there will only be two of us. If the flat was in a different building we would be snapping it up straight away. The building had no lift and a few of the lights were out, which doesn't suggest that it is well maintained! We are going to look at another next week, can't wait.
Onto the post...If I was to assign a scent to every year I've been alive, 2012 would be the year of roses. A lot of people think of roses as being old fashioned but I'm pleased to see them being used in a lot of skincare products and re-imagined in perfume form.
I discovered my love of rose products at the end of last year when my first Boudoir Prive (now Joliebox) box contained a sample of Korres' wild rose moisturiser. I wasn't expecting great things of it but ended up loving it and scraping the dregs out of the tube! Full priced was a little expensive for me so I was keeping my eye out on ebay when Marie Clare had a free tube of Neal's Yard Rehydrating Rose moisturiser on the cover. I bought three copies!
Add to this that I had been reading Birdsong and was extremely taken with the idea of smelling like a pre-WW1 woman (I don't have the book to hand but Isobelle is described as leaving a scent of rosewater) and my obsession with roses was cemented. So here are a few of my favourite rose-themed products.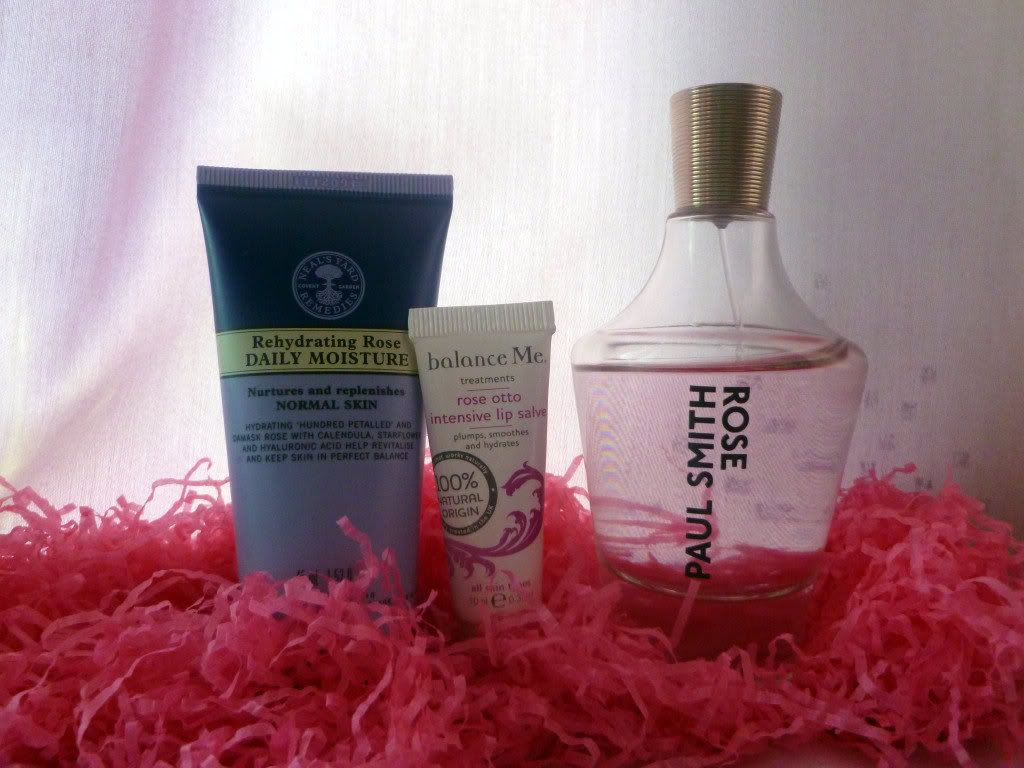 Neal's Yard Rehydrating Rose Daily Moisture
Proof that giving away things in magazines works! I fell in love with this instantly, and after a few months of using this nightly, my skin is clear, clean and smooth. I only get one or two spots a month and these are hormonal. I bought three copies of the magazine and have used up one and a half tubes. I feel I may have to repurchase- it's £12 I think, which is more than I'd usually pay. May have to wait til my student loan comes in!
Balance Me Rose Otto Lip Salve
Another magazine freebie. However I will not be repurchasing as this is £12. I can't bring myself to pay £12 for lipbalm as much as I love it. May be searching ebay and buying a few more copies of Glamour. It is a great lipbalm and smells utterly delicious, but £12..? For lipbalm that I will get through in a few weeks? That's two hours wages guys! Maybe when I'm a teacher, but probably not. I'm sure ebay will help me out.
Paul Smith Rose
Had this for my birthday and it makes me so smiley and happy everytime I wear it. It's obviously a rose scent but not too heavy and not too sweet either. It also came in a gorgeous Cath Kidston-esque rose print draw string bag which looks fabulous on my dressing table. Highly recommended!
Jane Iredale 24-Karat Gold Rose Gold
This doesn't smell of roses but it is a lovely dusky rose, one of my favourite colours. I don't have a picture because I couldn't get it off the website for some reason, and the one I took didn't capture the sparkly gold pieces.
But have a look here.
I received this in December's Joliebox and use it as a night time blusher, the gold flecks are gorgeous and not to shiny. The post is only tiny but you use the smallest amount at a time so I imagine this will last me ages.
Now here's something I don't own but would love to.
Lily-Flame Rose Petals Scented Candle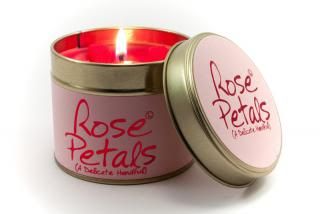 I always open the lids and have a sniff at these in John Lewis! They smell amazing and are so pretty. They are slightly too expensive for me at £8.50, perhaps if I cross my fingers someone will buy me one as a moving present aha, although Edd doesn't like fragranced candles and thinks they're 'messy'. Boring!