Apologies for the tiny pictures, apparently Miss Selfridge etc don't want me to show you their dresses full size!
1. Miss Selfridge yellow Peter Pan collar

I tried this on last week convinced the colour would look awful on me but it was actually kind of flattering! The cut is gorgeous and there are lots of lovely details like the stitching along the collar. It's £45 which is more than I'd usually pay but I may treat myself with birthday money.
Find it here

.
2. Boohoo dotty netted
Isn't this adorable? I think they have it in a floral print too but I thought the polka dots were more unusual. The netting turns it into a complete wonder. And it's only £20! I'll definitely be ordering this next pay day.
Find it here.
3. Modcloth one shoulder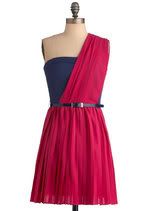 I'm completely in love with this dress and it makes me think of Carey Mulligan in An Education. She just got married so congratulations to her! I wish I had a big event coming up to wear it to, like a wedding or something. I considered getting it as my birthday dress but I am still unsure about risking buying a dress from the US. It's only $49.99 which according to the current exchange rate is only about 30 quid! So I may take the plunge and order it- what's the worst that could happen?
Find it here.
4. Sugarhill Boutique Cherry print
This is a brand I found via Modcloth and when I realised they were a UK brand it seemed silly not to check out their website. There are so many cute thing on there but I think this one has to be my favourite. I love the 30's edge to it and the cute neckline. Sadly once again a little out of my budget at £45 but hopefully it will end up in the sale! It's a real ' all year round' dress too, I can imagine it with red tights in the winter!
Find it here.
5. The magic vanishing M&S dress
I don't have a picture of this because it isn't on the website weirdly. I was in the shop today with my Mum as we both needed tights! I picked up a pack of three standard black tights for a bargainous £3.50 and a better quality pack of three in purple, grey and black which was still reasonable at £9.50. I spotted the most lovely green dress with a tropical flamingo print, it sounds pretty garish but it wasn't, I promise. It was £37.50 which isn't terrible- but why do M&S have such weird prices? Anyway I came home and tried to find it online but it wasn't there. So I can't say find it here,
but here's the M&S website!
Happy St. George's Day everyone!