Today's song: Dusty Springfield- Spooky
I've had a rather busy (not fun busy) month and so this won't be the longest post of all time!
Marks and Spencer's Valentines meal
Edd and I don't really 'do' Valentines as we have our own days that we do special things on..anniversaries and other silly made up days, excuses for cocktails mainly! However it seemed rude not to take advantage of the M&S Valentines deal. Starter, main, side, dessert, bottle of fizz and some chocolates for £20! You can't usually get cava in their meal deal and the food on offer was a bit more special than usual too.
For a starter, we had prawns with garlic and thyme butter. We added in chilli flakes as I think garlic, chilli and prawns are very good friends and should always be together.
We had Duck A L'orange and chips for the main, which was nice but did not knock my socks off. The duck was very tender and the chips were lovely.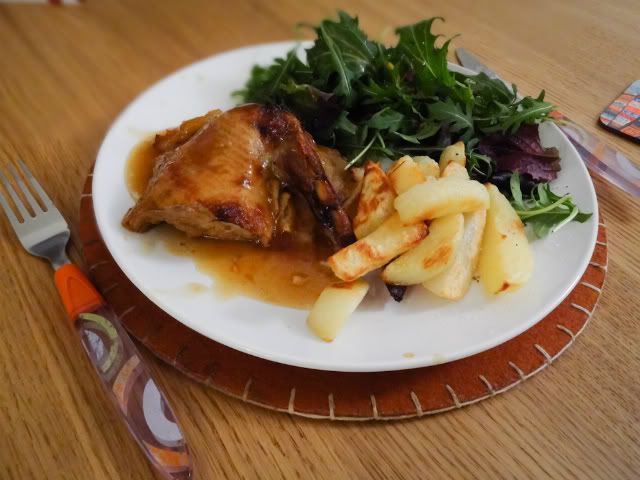 Lovely photos courtesy of Edd
We finished with Billionaire's Shortbread pots which were delicious and eaten far too fast for photos! I love anything Millionaire's Shortbread based, and these had salted caramel and beautiful chocolate ganache, nom nom nom.
Baking
I have been trying to bake once a week. One of my friends kindly gave me
The Primrose Bakery cookbook
for Christmas and I had another cupcake book from my Grandparents for Christmas so I have been working my way through those all year. I've now moved onto scones because they are so quick and easy and only use a few store cupboard ingredients. I'm thinking of doing cheese scones tomorrow!
Giving up crisps
I have given up crisps for lent! Crisps are my ultimate addiction, especially Walkers Salt and Vinegar and Pringles Texas BBQ. I eat far too many so I thought this would be a good way to avoid them for a while- wish me luck!
Eating out
I've had a couple of meals out- Nando's with a friend and Handmade Burger with my Mum. At Handmade Burger I had the Milano burger which comes with pesto, mozzarella and rocket- yum!
Tomorrow, Edd and I are off for a meal to celebrate him passing one of his exams and me getting onto my course. I'm extremely excited as it's a Birmingham restaurant I have wanted to visit for a while, which is currently number one on Trip Advisor. So I hope it lives up to expectations!