M&S Fuller Longer Range
I popped into M&S earlier this month when I fancied a tasty salad and I know they have a great selection. The new 'Fuller Longer' lunch range has some amazing looking flatbreads, wraps and salads, I went for this Bento Box which was so tasty and had the perfect amount of sushi in there. It was just missing the wasabi, boo! (Photo taken on my phone hence why it is awful!)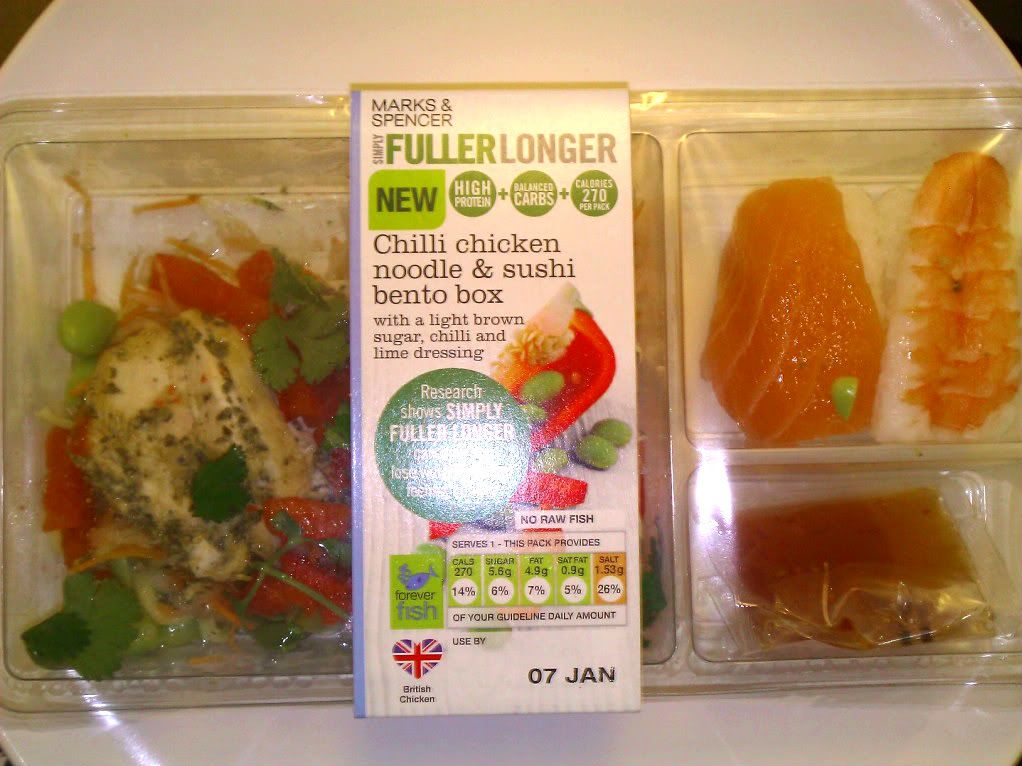 I have ranted more about this
here.
Yum yum yum.
One of my friends gave me a gorgeous cupcake recipe book for Christmas so I baked some vanilla ones to send to Edd's parents and Grandparents. I was quite pleased with the consistency and texture but they were a little sweet for me.
Edd and I visited Cardiff the weekend before last, you can see more of our adventures here. We were a bit boring with food in the day time (Pret, Nandos and Burger King!) but ate well in the evening. The highlight was the meal we had on the first night at The Thai House. I don't know a huge amount about Thai cuisine but I can thoroughly recommend this restaurant for value, taste and service. We had one of the set menus and it was incredibly fresh and tasty- just what I crave at this time of year.
On the second night we thought we had better have Italian as Cardiff is renowned for its Italian food! We went to Bellini's which was right next to the hotel. I don't enjoy pasta as a main meal and pizza doesn't seem special enough to me for an evening out (except Pizza Express yum yum!). As I said in my Strada post, I always have the same thing and this time was no different I'm afraid. The prawns in garlic and white wine sauce were delicious though I missed the chilli kick! The breaded chicken with tomato sauce, ham and mozzarella was tasty but ridiculously large.
At Cardiff Bay we nipped into the 'Fabulous' Welsh Cake shop to pick up a variety of the delicious treats.