Today's song: Jimi Hendrix-Purple Haze
Dress: Traffic People@Topshop, Belt: Topshop, Bag: Vintage via Ebay, Shoes:New Look
(Apologies for the poor photo quality but as we were eating at night, the photos were taken at night!)
On Saturday, Edd and I went to Ikea in the day which involved me driving on the motorway- something I don't much enjoy! Finally we were back in Birmingham and I was ready for a glass of wine and a bath and to get ready for a lovely meal at
Chez Jules
.
I wore this purple dress which I bought years ago in the Topshop sale. I was only 19 at the time and I think I couldn't quite handle the grown-up cut and length. I'm glad I kept it as it is my go-to dinner dress now! Even if it is rather difficult to photograph due to the shiny material.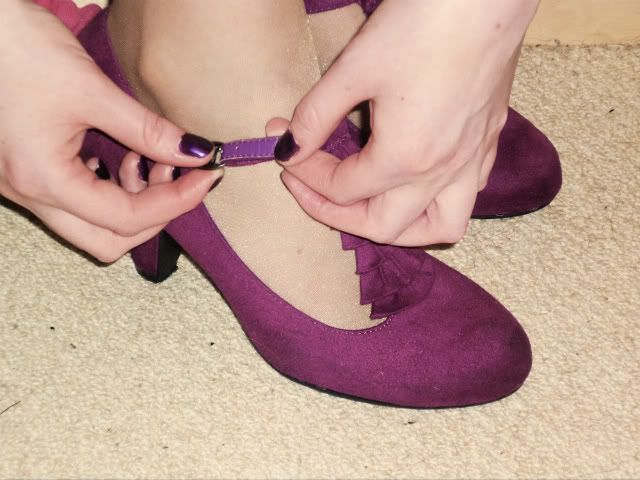 I love these shoes though they are about half a size too small for me. They are fine to walk in and then sit down, but I can't handle them for nights out, boo! The nail varnish is Cosmic Crush from Boots' Natural Collection, only cheap but I really love it.
We having been meaning to go to Chez Jules for a while and just got round to it now to celebrate Edd passing one of his exams and therefore getting a pay rise. It's a French bistro in Birmingham city centre. The decoration and atmosphere are charming, cute red and white checked table cloths. I think it would be a great place to start a birthday or hen do, but equally suitable for a meal for two- we sat in a sectioned off area which still had the atmosphere but made it a little more intimate.
The food was tasty and what you'd expect, really. It didn't blow my mind but it was great quality and my prawn starter had the best prawns I've had in a long time! I look forward to going back there but there's loads of other places I want to visit too!
I start back at work experience tomorrow and I'm a bit nervous as usual though I'm sure I'll be fine by the end of the day.